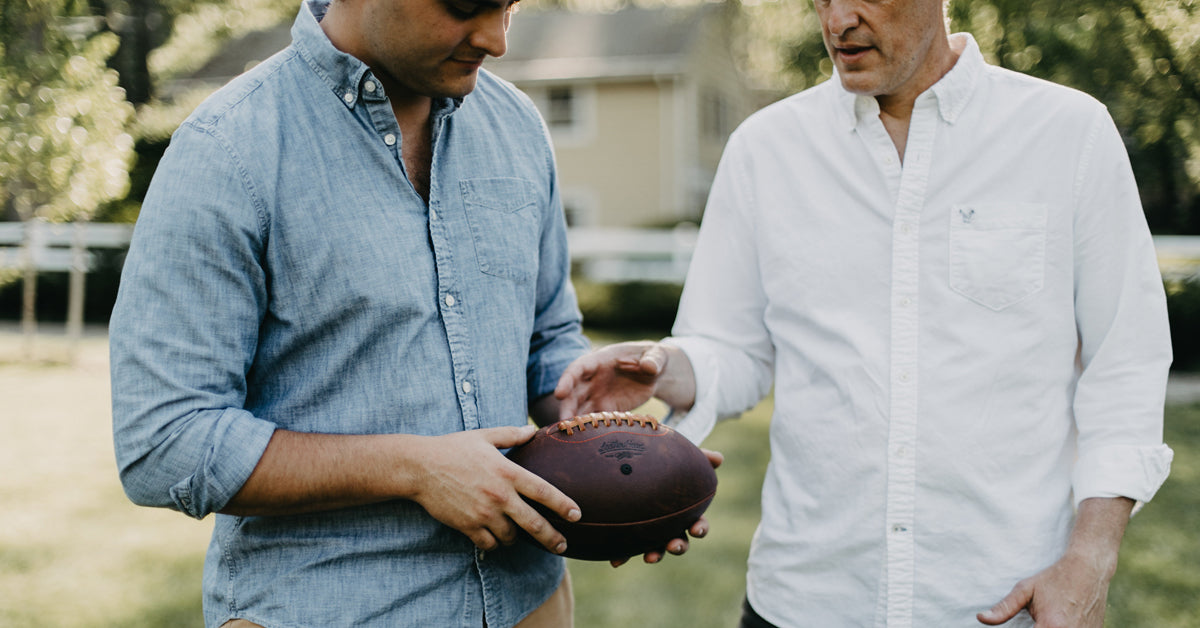 Father's Day gifts that are sure to be a hit
Celebrate Dad with these sports inspired gifts
A Sports Fanatic's Gift Guide
X number fathers day gifts your pops will brag about
Hall of fame gift ideas for fathers day
Hit it out of the park with these gift ideas for dad
Father's Day is the perfect time to honor the men in our lives who have been there for us through thick or thin. Fatherhood comes in many forms and fashion these days, but regardless of your story, Father's Day is a day of celebration.
Dad's sacrifice so much of their lives to prepare us for life on and off the court, and there's only so much we can do in our lifetime to try and pay them back and show our gratitude. Giving them the perfect gift on a holiday dubbed just for them is the least you can do. Instead of getting him another tie he won't put on, or a shirt he will only wear around the house, get him an awesome gift to commemorate all the moments you've spending playing ball or watching the big game with him.
Authentic Jersey
What's your pop's favorite team? Whether it's football, baseball, basketball, or hockey, a jersey makes a perfect present. But the replica jerseys you buy at the sporting goods store or at the local mall won't do — you'll want to get an authentic team jersey, just like the players wear. Sure, the price tag is a little higher, but having the real deal makes all the difference. And, to make it even more special, you can try to get your hands on a game-worn jersey.
Drinking Glasses
Whether your father likes to down a beer or two during the game, or enjoys kicking back and relaxing with a nice scotch after a hard day's work, drinking mugs and shot glasses with his favorite team logo will have him drinking in style. And if you get him a pair of glasses, it's something you guys can enjoy together.
Game Used Equipment
Next to the game-worn jersey, equipment used during a real game is another unique gift that any sports fanatic will appreciate. Equipment can be anything from a game ball to a tire from a race car, or a piece of history like the seat from a stadium that's been torn down. Thanks to the internet, there's no shortage of places to find authentic sports memorabilia that's been used in competitive play.
Personalized Ball
If your dad is a sports fan, and likes playing catch or tossing the old pigskin around during tailgates, a personalized Leather Head Father's Day Gift Set is a great choice that's sure to leave a lasting impression. Give a gift that can be used to create new memories and relive old ones.
Team Tickets or Stadium Tour
Of course, any die-hard sports fan would love tickets to see their favorite team or their favorite player. Getting your dad season tickets for the year, or planning a special trip just for you and him would mean the world to him! Stadium tours are also a really cool way to give your dad an extra cool and unique sports experience.
TV Sports Packages
For the lifelong fans who don't like to miss a game, sports packages such as NFL RedZone or the MLB Network are perfect add ons to your dad's cable or satellite package so he gets all the sports action and commentary at his fingertips.
Your dad is a special guy who's done more for you than you can ever imagine, so make sure you take good care of him, not just on Father's Day, but every day.