Custom Work is What we do Best
Whether you're looking for a unique leather, different thread or lace colors, or simply a more personal touch, we'll work with you to craft a ball you can truly be proud to show off. Let's work together to make your vision a reality.
Corporate
It's been confirmed: there's no better way to schmooze your boss, your business partner, or a potential client than by giving them a handmade, one-of-a-kind Leather Head ball.
Groomsmen
On your wedding day, you'd best celebrate your love for all of the most important things in your life -- including your best men and your beloved game.
Father's Day
We don't know your father personally, but we do know he doesn't need another tie. Give him a one-of-a-kind, customized Leather Head ball to show him how much you appreciate him.
Birthdays
The perfect gift for the man who has it all. A customized, handmade Leather Head ball is a thoughtful, upscale and practical gift all at once.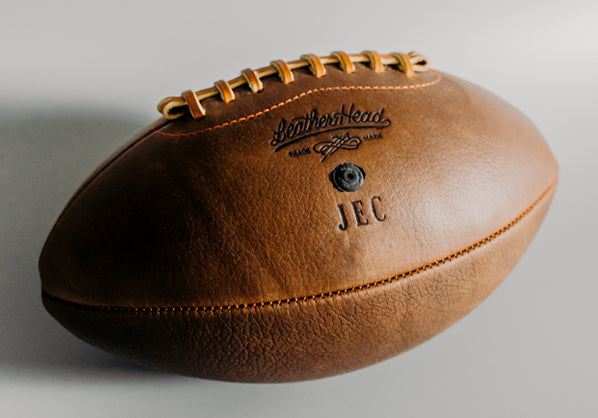 MONOGRAMMING
Available for almost any ball in our collection.

*exceptions may apply*

Leave your mark and a personal touch by adding a heat-embossed monogram of up to 4 characters to any Leather Head product. It'll make your ball uniquely yours.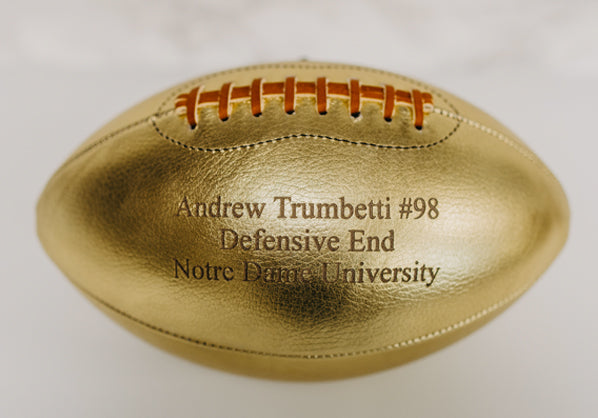 LASER ENGRAVING
Available for almost any ball in our collection.

*exceptions may apply*

Add a full name, a company logo, or even a special message to any Leather Head product to make it even more special. It's great for gift-giving.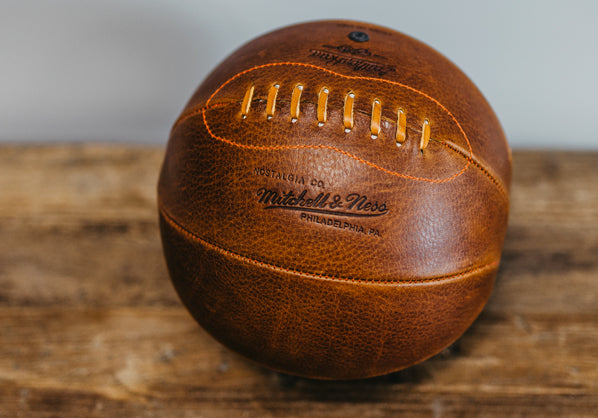 HEAT EMBOSSING
Available for almost any ball in our collection.

*exceptions may apply*

Using your vector art, we'll create an embossing die to add your own custom design to any Leather Head product. Contact us to discuss details and price.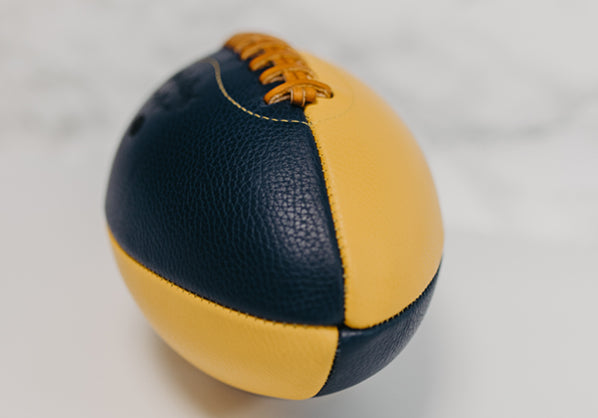 DESIGN YOUR OWN
If you can dream it up, we can create it for you. Customize any type of Leather Head ball to fit your needs and your vision.
Custom Ordering Questions
What is a custom ball?

Most items on our site are available for personalization. Also, for an additional fee of $50, we can help you create a completely customized ball. We offer a broad selection of leather, thread colors, and even a handful of lace options. Use your imagination!
How can I personalize my ball?

Most items on our site can be monogrammed, laser engraved or even branded with a custom branding iron.
What does custom work cost?

Beyond the cost of the ball, several custom engraving options exist: Monogramming: $15 for up to 4 characters. Laser engraving: $25.00 per panel. Custom Embossing: $150 for a custom die, plus $5 labor cost per ball. Upon placing your order, a mockup and one revision is included in the engraving costs. Additional revisions will incur additional design fees of $50 per revision. Before an order is placed, a mockup is available for a non-refundable fee of $75.00. This will be applied to your order when placed.
What art do you need from me?

Monogrammed letters are embossed in the Times Roman font. For simple laser engravings we can recommend complimentary fonts. For more elaborate laser engraved logos we need your art in a high resolution (300dpi) B+W jpeg file. To create an embossing die you will need to supply B+W vector based art. Note: Colors or shades of grey can't be reproduced by any of these methods. Contact us for specifics.
How long does it take to make a custom ball?

Every job is different so timing varies based on the size and scope of your order. Typically, custom orders require two weeks to complete. We encourage you to consult with us to make sure we can get you your ball when you need it.
Can I get a custom ball in under two weeks?

Yes. Rush service is available for an extra $25.00
What are your limitations?

Space and technical limitations are real. It's best to consult with us at the beginning so that we can guide your project to a unique and successful outcome.
Where are Leather Head balls made?

All Leather Head balls are made in our shop in Glen Rock, New Jersey. This allows us to control every facet of the process. Control means quality, accuracy, and speed. It means that we can do single item custom orders as well as large scale production runs. Since we're not using third world manufacturers, or shipping from the eastern hemisphere, we can also offer unsurpassed speed and security.